Legend of Zelda: An RPG to the Past
Parade Shield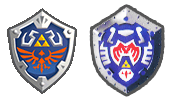 Bearing the coat of arms of their nation, this shield is the ultimate symbol for the love of your kingdom.
Special Qualities: The Parade Sheild counts as a Heavy Steel Shield. Used this to bash, it is a martial bludgeoning weapon. For the purpose of penalties on attack rolls, treat a heavy shield as a one-handed weapon. If you use your shield as a weapon, you lose its Armor Class bonus until your next turn. An enhancement bonus on a shield does not improve the effectiveness of a shield bash made with it, but the shield can be made into a magic weapon in its own right.
The Parade Shield grants a +2 to Diplomacy while in the Kingdom of it's making. While outside of it, you have a -2 Penalty.